This hound is nobody's mutt. He read my post in the series on
World Championship Opening Preparation
, the one titled
'Did You Consider Just Playing Chess?'
, where Dirk Jan ten Geuzendam interviewed Garry Kasparov after the 13th World Champion lost his title in the 2000 Kramnik - Kasparov match...
Q: Did you consider forgetting about all opening preparation and just playing chess? • A: A good recommendation. At one point I wished we could change Bishop and Knight in the opening position, because then I had no doubts I would win the match.
...Our four-footed friend decided he couldn't go astray by heeling to Kasparov's advice. He closed his dog-eared copies of BCO, ECO, and MCO, not to mention DCO (the latest edition, authored by the old dog himself, Herman Shepherd), and told his human that from that moment on they would only play the chess960 positions RBNQKNBR (SP524) and its twin RBNKQNBR (SP540).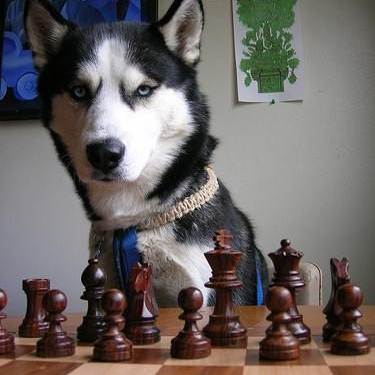 The photo shows him just before this year's house championship putting on the dog in his favorite blue harness. When asked if he would ever return to the traditional game, he sniffed, 'No, the old chess is for dogmatists'. • HT: lolchess (Streatham & Brixton Chess Blog), borrowing from ITZ B Ur MOVE (Loldogs, Dogs 'n' Puppy Dog Pictures).