During the five years that I've been playing chess960 (see
Thanks, Bobby
for some general reflections), I've played around 100 games. Among my favorites are several games that I won with Black against good players, but one game in particular stands out.
The game was my first playing for a team, conducted under the system described in Parallel Games, two games against the same opponent with the same start position. Much to my dismay, the team was already losing 0-2 a short time into the match when our last board lost both his games by blitzing his moves. 'Overconfidence' was his excuse.
I won my game with White while the other team members played their games to an even result, so the team was one point down with only my game as Black remaining. The game started as SP861 RKNBRNBQ, a Queen-in-the-corner position. The first moves were 1.f4 f5 2.Nd3, reaching the position shown in the top diagram. Here I played 2...g5, planning the continuation 3.fxg5 e5, where Black has excellent play for the Pawn.
My opponent avoided this and the game continued 3.g3 gxf4 4.gxf4 c6 5.e4 fxe4 6.Qxe4 Nd6 7.Qe5, reaching the bottom diagram. White is hoping for an exchange of Queens on e5, repairing his Pawn structure and retaining the initiative.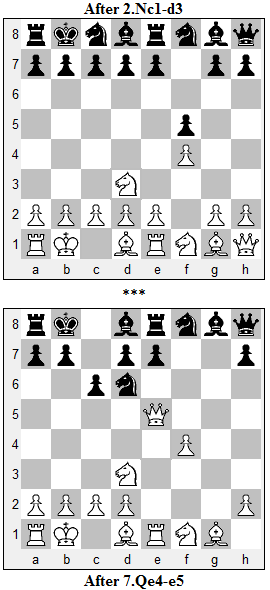 Black can't avoid the Queen swap, but he can dictate the terms. I played the unusual idea 7...Ng6, when White has nothing better than 8.Qxh8 Nxh8. Black is not worse and has good play against the isolated f-Pawn. The game continued 9.Bg4 e6 10.Ng3 Kc7.
White launched a Queenside attack with the a-Pawn and castled O-O. Black repulsed the attack and launched a counterattack on White's weak Kingside, eventually winning a Bishop for a Knight. A long period of maneuvering set in and I finally converted my positional advantages into an extra Pawn. I wrote about the endgame in a post on my main blog, Simple Positions, Pretty Geometries.
The league's organizer, in a summary of the match, noted,
The cliffhanger of Section B delivered the teams New England [my team] and Team XLink who shared the victory with a result of 5-5. Funnily enough no draws occurred. Absolutely well worth seeing was the clash of two chess960 heavyweights at the first board. Mark with Black managed to defeat Carl in a model correspondence game.
It's always nice to win, but it's even nicer when the game has special value.