In my previous post,
Lechenicher, RemoteSchach, SchemingMind
, I quoted GM Kramnik speaking about chess960 in 2004...
It is hard to explain but when in the initial position the Bishop stands on h8, the Knight is on g8, and the Rook on f8, the artistic beauty of chess disappears. By the way, I asked my colleagues about it and many of them share my feelings -- something is dubious and unaesthetic.
...and decided to call his example the 'Kramnik formation'. How many of the 960 start positions (SPs) use this formation? Taking the Queenside (a-side) formation 'BNR*****', there are three squares where the other Bishop can be placed, then four where the Queen can be placed, then three for the other Knight. The King and Rook drop into the last two squares with the King between the Rooks. Multiplying 3*4*3 gives 36, which must be the number of Kramnik formations on that side of the board.
Using the same logic on the Kingside (h-side) formation '*****RNB', there must also be 36 positions. This gives us 72 Kramnik positions, right? No, wrong, because two of the positions have the formation on both the Queenside and Kingside: SP323 BNRQKRNB and SP339 BNRKQRNB. I'll call these double Kramnik formations.
SP323 is the traditional start position (SP518 RNBQKBNR) with the Rooks and Bishops switched. SP339 is the twin of SP323, with the King and Queen switched. It's worth noting that in SP339, castling O-O-O is possible on the first move. It's also worth noting that both SPs fall into the category of positions with four corner Bishops.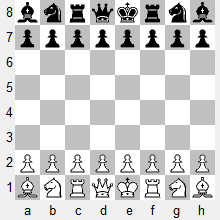 SP323 is shown on the left. As for Kramnik's assertion that 'the artistic beauty of chess disappears', what can I say? That 'beauty is in the eye of the beholder'? That beauty is also found in the unfamiliar?
The beauty of chess is so much more than the all-too-familiar positions that arise from the traditional SP. Chess960 opens an entirely new, unexplored world of chess beauty.