In my previous post,
Chess.com's GM Blitz Battle
(February 2017), I wrote,
Seven matches times three chess960 games per match gives 21 chess960 games played by the world's top grandmasters. I didn't see an easy way to collect those games, but a little perseverance should pay off.
Indeed it did. After signing into Chess.com, I accessed the game archive and selected 'Others' games'. The subsequent procedure was:-
Search on games between both players,
Open relevant game,
Share, and
Download [with or without thinking times]
To search on games, you need to know the players' names on Chess.com. These are all available from the 'Blitz Battle' post via the reports on the individual matches. Here they are for the matches from the first round, the winner given first.
Grischuk vs. LevonAronian
Hikaru vs. GMharikrishna
LyonBeast vs. FabianoCaruana
MagnusCarlsen vs. TigranLPetrosyan
These four matches plus the other matches are shown in the same chart used in that previous post.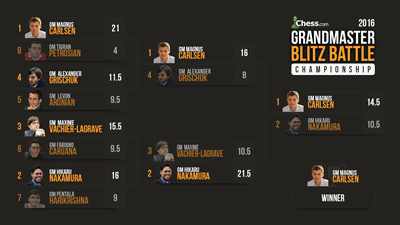 Revisiting the Chess.com report on the final match, Carlsen Beats Nakamura To Win GM Blitz Battle Championship (October 2016), we learn,
Just like the quarterfinals and the semifinals, all three time disciplines opened with a chess960 game, but for the finals, a twist. The players did not get advance notice of the starting positions. Nakamura would go on to take 2.5/3 in the three iterations of chess960, one of the few bright spots for him on the day.
The file containing the chess960 games is here:-
GM Blitz Battle PGN : 21 games
While assembling the file, I learned that all of the matches in the same round used the same start position at each time control. For example, the first chess960 games of the first round, with 5 minutes for each player (plus one second per move), used SP768 BBQRKNRN. Given that the players had advance notice of that start position, it might be instructive to examine their opening moves.