At the end of 2017, chess960 fans were in a holding pattern, waiting for a couple of Chess.com events to terminate:-
2017-10-17: Three Chess960 Developments to Watch • Chess.com's 2017 Speed Chess Championship ('One chess960 game will be played in each time control at the end of each time period')
2017-12-23: 2018 Fischer Memorial • 1st Chess.com Chess960 Championship ('you can win a ticket to the Bobby Fischer Memorial in March in Reykjavik')
Both events finished within a few days of each other. Here are Chess.com's final reports:-
Congratulations to both GM Carlsen and GM Maxime Vachier-Lagrave. Now that the events are over, where can we find the games?
Last year, when I discussed the precursor of the 'Speed Chess Championship' in GM Blitz Battle PGN (March 2017), I noted, 'To search on games, you need to know the players' names on Chess.com.' The full results of the event, including all preliminary matches, are detailed in 2017 Speed Chess Championship Schedule, Results, Information (chess.com), from which I copied the following chart.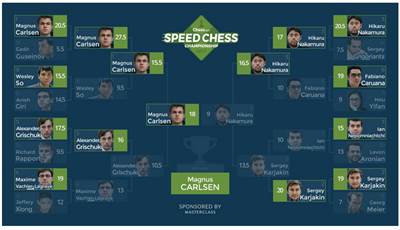 The results of the each match include links to a full report. Here is a summary of the first round matches.
Nakamura 20.5 (Hikaru), Grigoriants 7.5 (sergiochess83)
Karjakin 19.0 (SergeyKarjakin), Meier 7.0 (GeorgMeier)
So 15.5 (gmwesley_so), Giri 14.5 (AnishGiri)
Grischuk 17.5 (Grischuk), Rapport 9.5 (Lordillidan)
Nepomniachtchi 15 (lachesisQ), Aronian 13 (LevonAronian)
Caruana 19 (FabianoCaruana), Hou 8 (yifan0227)
MVL 19 (LyonBeast), Xiong 12 (jefferyx)
Carlsen 20.5 (MagnusCarlsen), Guseinov 5.5 (GGuseinov)
In my next post, I'll try to gather all of the chess960 games from those matches. As for the chess960 championship, the 'MVL Wins' report provides the possibility to 'Download Tournament PGN'. In the next post, I'll also look at that file.