On my main blog I've been keeping track of the TCEC engine vs. engine tournaments. Last month, in
Stockfish Wins TCEC Cup 7; CCC GPUs Back
(November 2020), I reported,
The [TCEC] '!next' plan says, 'next FRC2 testing and FRC2 ~1.5 weeks'. When was FRC1? As far as I can tell, it was more than six years ago. [...] I'm looking forward to reporting on FRC2 for [my chess960] blog.
Two weeks later, in TCEC FRC2 Underway; CCC 'Currently Uncertain' (November 2020), I reported,
After 'Sufi Bonus 3', the [TCEC] ran a chess960 event, dubbed 'FRC2'. It started with 16 engines in four 'Leagues' (A to D), followed by eight engines in two 'Semileagues' (1 to 2), followed by four engines in a 'Final League', followed by two engines in a 'Final' match. The 'Final League' is currently underway.
Another two weeks passed and in TCEC S20 Underway; CCC Less Uncertain (December 2020), I reported,
In the FRC2 Final League, LCZero and Stockfish finished first and second to qualify for the 50-game final match. Stockfish beat LCZero +8-0=42.
The first of the three posts above linked to Stockfish, the Strong (July 2014) on this blog, plus two other followup posts based on FRC1. FRC1 was held three and a half years before AlphaZero made waves with its revolutionary AI/NN technology, soon to be followed by Leela Chess Zero (aka LCZero / LC0). The chart below overviews the different events that made up FRC2. The top portion of the chart flows upward; the bottom portion flows downward.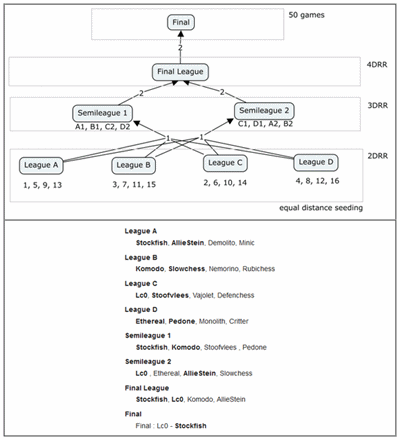 Source: TCEC Wiki
The semifinal event, dubbed 'Final League' in TCEC nomenclature, had Komodo representing the traditional engines that competed in FRC1, Lc0 and AllieStein representing the AI/NN generation of engines, and Stockfish representing the even newer NNUE generation. I haven't decided if I'm going to spend time looking at the games from FRC2. We already have years of engine experience documented in the CCRL datasets (see the right sidebar under 'Resources') and I'm not sure what can be gleaned from the latest TCEC experiment.