Ever since posting about the special Fischer Random Chess960 event as part of the
2018 Fischer Memorial
(December 2017), I've been counting down the days, eagerly awaiting the results. The following table shows the top-20 of the 100 players who participated.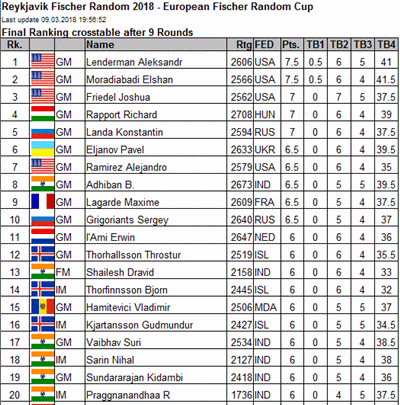 Reykjavik Fischer Random 2018 - European Fischer Random Cup
(chess-results.com)
An undated report from the official site, Lenderman wins the Bobby Fischer Cup - Rapport European Champion (reykjavikopen.com; 'GAMMA Reykjavik Open 2018 - Bobby Fischer Memorial'), started,
The first official European Championship in Fischer Random was played on the 9th of March, on Bobby Fischer's [75th] birthday ... fittingly! The tournament was held by the GAMMA Reykjavik Open organisers in co-ordination with the ECU and with great support from Susan Polgar. The atmosphere in the playing hall was tremendous and many players claimed it was the most fun they had in a while playing chess! Before every round the starting position was randomly drawn so before the game instead of being relaxed you usually saw the players already pondering the starting position and possible plans.
I'll have more about the event in my next post.