After last week's post
Lenderman, Rapport Take Reykjavík
, what more can be said about the event, aka the 'European Fischer Random Cup'. How about some games? Since 100 players participated, 50 games were played per round -- nine rounds should give 450 games for the tournament.
The page Fischer Random Cup (reykjavikopen.com) has results for 20 games per round, presumably for games which were recorded automatically while they were in progress. Clicking on a game opens a viewer to play through and download the game. Clicking on the PGN download button gives only the message 'Not logged in'. Logging in to Chessbomb.com gives the message 'Only Premium accounts can download PGN'. A similar interface producing the same information is on GAMMA Reykjavík Fischer Random Chess Memorial 2018 (chessbomb.com).
Back to Reykjavikopen.com, a number of side events were held in conjunction with the Fischer Random Cup (GAMMA Reykjavík Open 2018 – Bobby Fischer Memorial):-
The page announcing the Fischer Memorial Tour I, 'a trip to the Fischer Center in Selfoss and Fischer's Grave nearby', included a map of Selfoss:-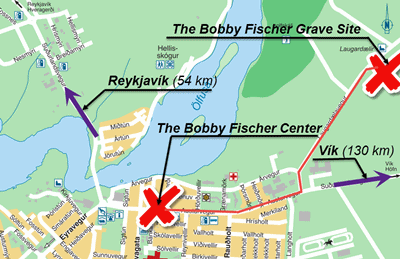 For more about the Fischer Center, see Welcome to the Bobby Fischer Center (fischersetur.is).