While I was working on last week's post,
A Stockfish Experiment
, I noted an announcement for an upcoming tournament,
Bonus Titled Arena: Chess960!
(lichess.org):-
Due to the recent gain in popularity of the Chess960 (or Fischer Random) variant, we're hosting a bonus Titled Arena: Chess960 Edition! The Titled Arena has become among the world's strongest Bullet tournaments, and we're proud to now also offer a high quality Chess960 tournament to our players.

Many of you have also requested a longer time control during these titled events, so we're trying 2 minutes + 1 second increment this time. Moreover, to ensure that each player will get enough games with this longer time control, we're increasing the tournament duration from the usual 2 hours to 3!
The tournament Chess960 Titled Arena #960feb19 (ditto) finished just in time to make the deadline for this week's post. Here is a copy of the winners' podium.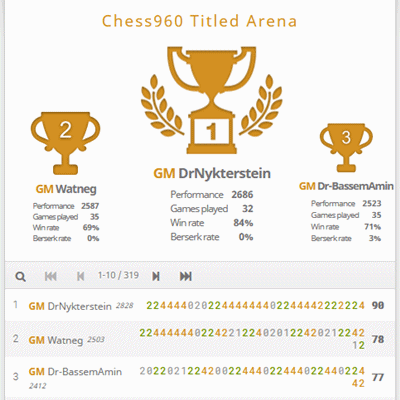 For future reference, I also noted the links to the three winners' Lichess pages:-
'DrNykterstein' is better known as World Champion Magnus Carlsen. His Lichess page eventually leads to a list of all games he played during the event. Last year he won an unofficial Chess960 World Championship, which I reported on this blog in 2018 Carlsen - Nakamura (February 2018).
Second place Watneg is an anonymous GM, while third place went to Egyptian GM Bassem Amin. The game between Carlsen and Watneg can be found at GM DrNykterstein vs GM Watneg: Analysis board (lichess.org). To document the progress of the tournament, here are a number of tweets I picked off the Lichess Twitter page:-
Who said chess960 levels the playing field between experienced chess players?