Last week's post, 'Presenting the Fischeramdon' (sic; see the last link in the list below), was the first post in nearly two-and-a-half years to shed new light on the early evolution of chess960. I started to wonder: How many other posts had I done on the early years of chess960? To answer that question, I first turned to a post from 2013 that listed earlier posts focusing on Fischer's activities. For easy reference, that 2013 post is pictured below.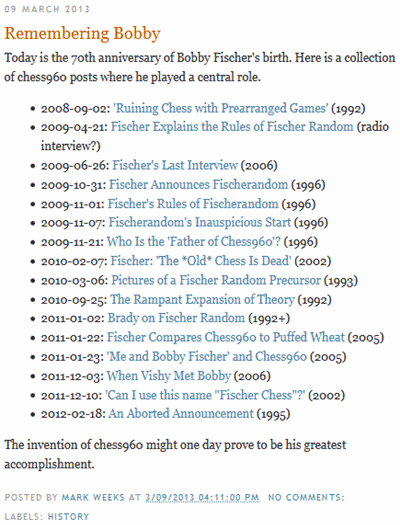 2013-03-09: Remembering Bobby
Using the same format, here are posts about Fischer's activities during the 1990s:-
From this we see that Fischer's early activities were bunched into two time periods. The first period took place in 1992-1993, when Fischer developed the rules of his emerging invention. The second period took place in 1995-1996, when Fischer revealed his invention to the world.
What happened in 1994 and after 1996? Looking at Fischer's other activities in those periods might help answer those questions.