After nearly a half-dozen posts on the 2022 FWFRCC ('FIDE World Fischer Random Chess Championship'), I have a number of loose ends to tie up. The coverage of the event has been extraordinary.
Nakamura Streams His FWFRCC Qualifiers
The previous post on this blog was 2022 FWFRCC Qualifiers (October 2022). One of the bullets said, '2022-10-07: Lichess Qualifiers Send Nakamura and Abdusattorov to [WFRC]'. GM Nakamura, a popular Twitch and Youtube streamer, recorded his qualification games. Here is the first clip.

Hikaru on Lichess Fischer Random World Champs Qualifier (1:13:57) • '[Published on] Sep 13, 2022'
The video description informed,
Hikaru plays in a qualifier on Sept 11, 2022 held on Lichess for the Fischer Random World Championship being held in Iceland in October. This is the first qualifier, the top 15 will play on Sept 18th in a knockout format. This is part 1. Hikaru recorded this off stream.
That was the first of three videos on Youtube's GMHikaru channel. All of them received viewer comments numbering around low three figures. Here are the videos:-
The eight player group stage of the 2022 FWFRCC was played this past week. Nakamura was one of four players to qualify into the semifinal stage.
Google Accords 'Full Coverage' to the 2022 FWFRCC
In a recent post on my main blog, Chess960 Mania (October 2022), I discussed Google News chess stories for the month of October. For only the third time since I've been following Google News, the tech giant supplemented the 100 chess stories with a special 'Full Coverage' page. This time the coverage was about the 2022 FWFRCC. In that post I promised, 'to cover the FWFRCC final on [my chess960 blog], incorporating Google's 'Full Coverage' into the next post.' So here we are.
The following image was developed for the 'Chess960 Mania' post. The left chart shows news sources that had more than a single story in Google News for October. I discussed these in that original post.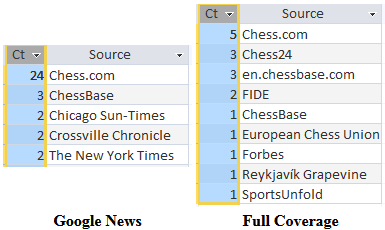 The right chart shows all news sources that had at least one story in the Google 'Full Coverage' section. In other words, 18 stories about 2022 FWFRCC were published by nine different sources (there were also four tweets from Twitter). Five of the stories were from Chess.com. Another five were from sources that accounted for a single story.
Did I say 'nine different sources'? For some reason that isn't immediately clear, ChessBase appears twice in the list. In all fairness I should discuss the five Chess.com stories. The site has been a strong supporter of chess960 since a few years after Chess.com's inception in 2007. It developed software and tools to play chess960 and promoted them through its forums. Two of the four 2022 FWFRCC qualifying events were organized by Chess.com.
For most of that same time ChessBase has been antagonistic to chess960. A few years ago, in Purported Problems with Chess960 (April 2018), I took issue with a long list of chess960 'problems' assembled by ChessBase founder and front man Frederic Friedel. The original ChessBase article is still available on ChessBase.com and undoubtedly still influences people wanting to know more about Fischer's greatest invention.
Here are the four Chessbase stories flagged by Google's 'Full Coverage'. All are from Chessbase.com; the last three are signed by Carlos Alberto Colodro.
Has ChessBase changed its colors? Its tune? You be the judge.
More to come...
This past week I managed to watch a few hours of the 2022 FWFRCC group stage. I was amazed by the quality of the games and of the commentary. Unfortunately, I won't be able to write about the winner until the next scheduled post on this blog next month, but I can already say to the organizers and to others involved in producing the event, 'Congratulations on a great show and thanks!'