In last month's report on the 'FIDE World Fischer Random Chess Championship' (FWFRCC),
Quarterfinals of FWFRCC Completed
(October 2019), I ended with a Chess.com headline:-
2019-10-06: Caruana, So, Nepomniachtchi Headed To World Fischer Random Semifinals (chess.com; GM Jonathan Tisdall)
Those three players were joined by Magnus Carlsen. I pieced together the following infographic from subsequent Chess.com reports, which are listed below the chart.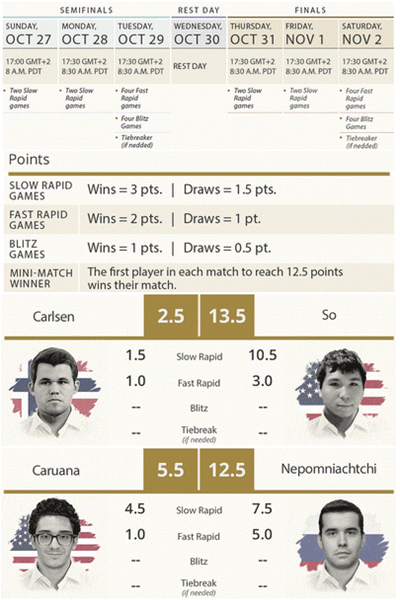 The results in the bottom half of the chart are from the two final matches. In the following reports I couldn't find a summary of the final scores in the two semifinal matches, but there are plenty of reports from other sites to sift through. I'll cover those in a follow-up post. Following are GM Jonathan Tisdall's reports on the semifinals:-
And here are GM Tisdall's reports on the final matches:-
Congratulations to GM Wesley So on gaining first place in this long, difficult event.