After with last week's post,
So Explains So vs. Carlsen
(January 2021), I continued with Chessable's free course 'Short & Sweet: Fischer Random Chess' by GM Wesley So. The third of the three chapters is titled 'Intro to Tactics'. It consists of a 17 minute video and 22 exercises, of which nine are covered in the video.
I watched the video and worked through the exercises. The top half of the image below shows the first position explained in the video. It is undeniably a chess960 position and illustrates a tactic that is not likely to arise in any opening from SP518 RNBQKBNR.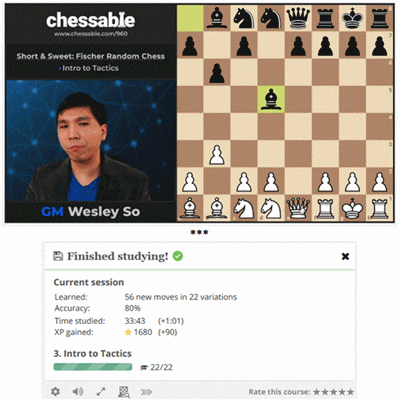 The bottom half of the image shows my score from the exercises. I aced the nine positions repeated from the video and had trouble with three of the new positions. In a couple of those positions, I wasn't sure why my move was inferior to the 'right' move, but using the 'Analysis Board', managed to see where I had gone wrong. In my original post about the Chessable courses, Wesley So's Strategies (December 2020), I said about the longer course,
The Chessable price for the recent 'Wesley So's Fischer Random Strategies and Tactics' is more than I care to pay for a resource of unknown quality.
I'm still not convinced that the price is right, but the quality is definitely there. GM So has discovered and shared many of chess960's secrets.