Last week's post,
Phase Three of FWFRCC Underway
(FWFRCC = FIDE World Fischer Random Chess Championship), showed a schedule which was not current. I suppose there was a conflict with the forthcoming
2019 World Cup
at Khanty-Mansiysk, because the current round of FWFRCC qualifiers will now finish before the World Cup starts. The corrected schedule is shown below.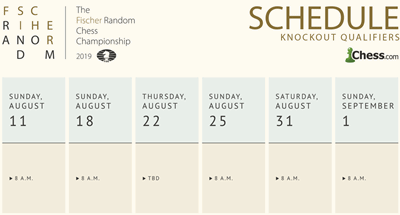 Schedule (frchess.com; revised)
In the intervening week since the last post, two more of the six qualifiers were held. Here are the Chess.com reports:-
By the time the next post on this blog appears, the last three events will have been played. The final knockout stage will take place from early October through early November.