What's happened in the four weeks since I posted
Phase Two of FWFRCC Underway
(July 2019), where the long acronym stands for 'FIDE World Fischer Random Chess Championship'? After 'Phase Two', which brought titled players into the competition, Chess.com issued a report
FIDE World Fischer Random Chess Championship Heats Up
, which said,
The Fischer Random action speeds up even more as the first knockout bracket begins on Sunday, Aug. 11. The tournament is the first of six consecutive weekly knockouts with identical formats of 16 players each, including two invited top-grandmaster players per bracket.
The following chart shows the dates for the six weekly knockouts. The note 'TBD' against each date means the start time of each event was not known at the time the chart was completed.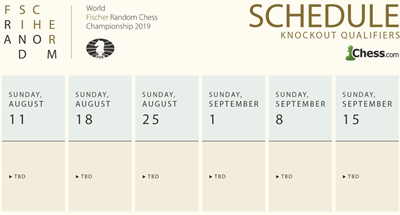 Schedule (frchess.com)
The first knockout event was announced a few days later in Nepomniachtchi, Harikrishna Headline First [FWFRCC] Knockout Qualifier (chess.com):-
The first of six knockout qualifiers will be hosted on Chess.com this Sunday, Aug. 11, featuring some of the strongest players in the world including GM Ian Nepomniachtchi and GM Pentala Harikrishna who will headline a pack of sixteen players vying for their chance to qualify for the next phase, the live quarterfinals.
GMs Nepomniachtchi and Harikrishna are currently ranked world no.7 and no.22 for traditional chess. The result of that tournament was officialized in Nepomniachtchi Qualifies For [FWFRCC] (chess.com):-
Russian top GM Ian Nepomniachtchi outlasted 15 opponents to reach the quarterfinals of the 2019 [FWFRCC], defeating GMs Zhamsaran Tsydypov, Sam Sevian and Pentala Harikrishna and the untitled Yurii Marinskii, in a stacked field.
The report included live video commentary by GM Aman Hambleton. I'm not sure what 'stacked field' means, but it must be something good.