Two months after I posted
Roadmap for a World Championship
(April 2019), the first phase -- "Open Qualifier" Phase : For Non-Titled Players -- has finished. The results are available at
World Fischer Random Championship: Qualified Players
(chess.com).
Eight days of qualifying events, with four events per day and five players qualifying from each event comes to a total of 160 players qualified for the next phase. That 'Qualified Players' page showed that many players finished high enough to qualify more than once, when their second qualifying spot went to someone a little further down the list. Did any players qualify more than twice?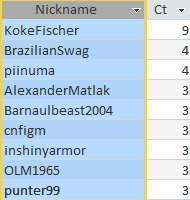 I loaded the list of qualified players into a database and created the chart shown on the left. It shows that there were nine players who qualified at least three times.
My database counted only 157 names, instead of the 160 I expected. Maybe there was a glitch in my procedure, maybe there was another reason, but my overall numbers should be accurate enough.
One Chess.com player, KokeFischer of Chile, qualified nine times, while two others, from Brazil and the USA, qualified four times. Are players from the 'New World' more interested in chess960 than players from the rest of the world? Maybe, but I suspect it has more to do with the start times of the four events favoring certain time zones.
So what's next? The rules (see the 'Roadmap' post for links) call for a '"Play-in" Phase : For Eligible Players', aka 'Qualifying Stage 2'. Specifically,
The 160 qualifiers from the 'Non-Titled Open Qualifier' stage will join titled players at this stage.

Players will register for tournaments they are eligible to play.

Players will compete in a 10+2, 9-round Swiss tournament based on the set qualifying schedule, with the top 7 finishers from each winning eligibility to purchase entries into the Knockout Qualifier Phase.

The total number of qualifiers from this phase will be 84 players.
The Schedule page (frchess.com) tells us when this will take place. First, here's the phase that has already completed:-
2019-04-28: Open qualifiers begin • Non-Titled Players. Occurs 32 times to qualify 160 Players. 10+2. Top-5 to Play-in Qualifier.
The next phase starts a week from now:-
2019-06-30: Play-in qualifiers begin • Eligible Players. Occurs 12 times to qualify a total of 84 Players. 10+2. Top-7 to Knockout Qualifier.
As for the rest of the tournament, here's the schedule. This is, of course, subject to change:-
2019-08-11: Knockout qualifiers begin • 84 players + 12 Invited Players. 15+2. Two game mini-match. Winner of each 16-Player Bracket to QF.
2019-10-04: Quarterfinals stage 1 begins • 6 winners from the Knockout Qualifiers join Nakamura & Caruana.
2019-10-06: Quarterfinals stage 2 begins • 2 losers bracket winners join the 4 QF Stage 1 winners in a series of different time controls.
2019-10-27: Semifinals begins • 3 QF winners join Magnus Carlsen for a semifinal with a series of different time controls.
2019-10-31: Finals begins • Championship and Third-place matches begin with a series of different time controls.
Some of that doesn't make much sense -- e.g. '2 losers bracket winners' -- but it should all become clearer as the individual events arrive. The finals start on Halloween. Best costume wins a special prize?