Thanks to an extra weekend this month, I can report on another Lichess Chess960 event. I covered the first event in a pair of posts:-
The announcement of the second event came a few days after that second post:-
2019-03-18: Chess960 Titled Arena Returns (lichess.org) • 'Given how well received the previous Chess960 Titled Arena was, we're bringing it back for round 2. As with last time, the control will be 2 minutes + 1 second increment to give everyone a chance to get used to the unfamiliar positions. The tournament duration will also be 3 hours, and thanks to the donation of last month's first place prize we have a bumped prize pool of $1500!'
Note that last sentence: 'thanks to the donation of last month's first place prize'. That makes Carlsen -- World Champion in traditional chess, where the big money is -- an unofficial sponsor of chess960 events. Thanks, Magnus! The event took place at Chess960 Titled Arena Mar 2019 (lichess.org). The results were summarized at:-
To honor the top three players, I once again captured a picture of the winners' podium.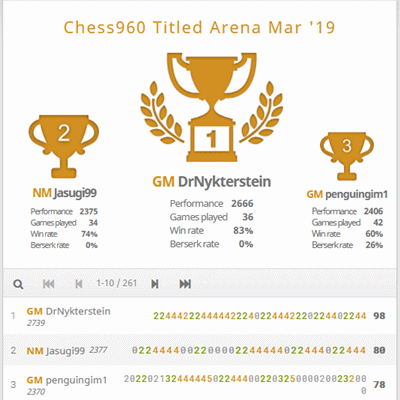 GM DrNykterstein is Magnus Carlsen himself, while the 2nd and 3rd place winners were NM Janak Awatramani and GM Andrew Tang. GM Watneg, the 2nd place finisher in the previous Chess960 Titled Arena, finished 4th this time. Carlsen's performance was again streamed by Youtube's ChessNetwork, who left us a permanent record on his channel.

Chess960 Titled Arena ft. Magnus Carlsen as DrNykterstein | March 2019 (3:05:20) • 'Published on Mar 28, 2019'
The description of the video says,
This is a 3-hour bullet chess tournament, Chess960 Titled Arena, I provided commentary on while specifically observing World Chess Champion Magnus Carlsen compete. Time controls are 2 minutes with a 1 second increment. This was the 2nd titled arena lichess held with the variant chess960, or fischer random chess.
On top of kudos to the commentator like 'Jerry, just got to say, your content is absolutely incredible', the comments point to key games in Carlsen's path to winning the event.