Let's see -- where were we the last time I reported on the 'FIDE World Fischer Random Chess Championship' (FWFRCC)? That post,
Phase Three of FWFRCC Completed
(September 2019), was dated last month and explained,
What happens next for the six knockout winners? The first event in the following chart, 'Quarterfinals Stage 1', says, 'Six winners of the knockout qualifiers join Nakamura and Caruana'. [...] The three top players from [those] quarterfinals will join Magnus Carlsen in the four-player semifinal.
Chess.com published a video preview of the quarterfinals.

8 of the World's Best Fischer Random Players Will Battle for Glory and $$$ (1:31) • '[Published on] Oct 3, 2019'
The description of the video started,
The Fischer Random Quarterfinals start October 4th! Eight of the world's top Fischer Random players will battle for a chance to move on to join Magnus Carlsen in Oslo for big $$$ prizes.
For each of the three playing days, the same site published reports by GM Jonathan Tisdall, the American/Norwegian reporter introduced in last month's post on the knockout phase.
2019-10-04: FIDE World Fischer Random Chess Championship Quarterfinals Kick Off (chess.com; ditto for the next two links) • 'Day one of the quarterfinal produced four match-winners [Nakamura, Fedoseev, Caruana, Nepomniachtchi], who advance to the third and final day of the stage. Day two is the Lazarus round, when the four losers fight to claim two return tickets to the event. The final day will see three players eliminated and the three survivors advancing for the live, over-the-board event in Norway.'


2019-10-05: Second Chances In World Fischer Random Chess Quarterfinal • 'The four losers from day one of the quarterfinals squared off for a last shot at continuing towards the World Fischer Random title. This unusual route to the semifinals has been adopted to create three semifinalists from this stage of the event -- because "defending champion" Magnus Carlsen will join the competition to make up the fourth finalist.' [Winners: Firouzja and So]


Fide.com also published a report on the quarterfinals, with an overview of all matches, including the winners, the opponents and the scores.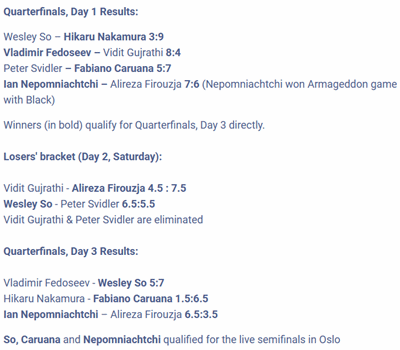 Fischer Random Championship: So, Caruana and Nepomniachtchi advanced to the semis (fide.com)
The official Schedule says the two semifinal matches will take place 27-29 October, followed by a rest day before the final three-day match (plus a match for third place) starts 31 October 2019.