Last year, in
SP864, Reddit, Chessgames.com
(April 2021), I briefly introduced chess960 on Reddit. The forum has come a long way and is now under regular management.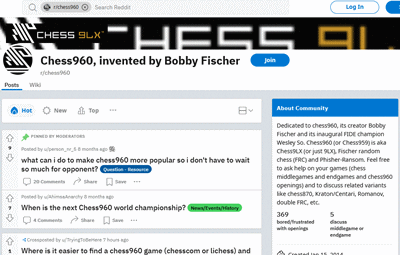 Chess960, invented by Bobby Fischer
(reddit.com)
That snapshot of the current home page includes two excellent pinned questions:-
What can I do to make chess960 more popular so I don't have to wait so much for an opponent?
When is the next chess960 World Championship?
The answer to that second question includes news from '16 days ago':-
Next 9LX World Championship: The Fischer Random championship will be broadcasted by the end of October. The FRC will also mark the anniversary of the 1972 WCC Fischer - Spassky.
That's great news indeed. I hope we'll be hearing more about the event soon. The Reddit post suggests that the event will be held in Iceland.
There's nothing to prevent anyone from touting a chess960 tournament as a 'World Championship'. The last legitimate claimant to the title was the event I covered last month in FWFRCC PGN (June 2022), held in 2019 and won by Wesley So. Let's see how the Icelandic organizers justify their event as a World Championship.