Chess960 finally makes the cover (sort of) of a major chess magazine and what happens? They spell it wrong!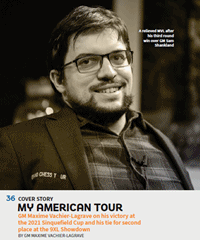 I knew this was going to happen. It was just a question of time. Not everyone is comfortable with Roman numerals, and of those who are, not everyone knows what 'L' stands for.
I already flagged one example in 2020 Champions Showdown, Lichess (September 2020), from the well-respected Leonard Barden of The Guardian. If the dean of chess journalism can blunder like this, anyone can.
What am I talking about? The built-in confusion between 9LX and 9XL, of course. The image above is from the table of contents (TOC) of the December 2021 Chess Life (CL). The small print says,
[Page 36] COVER STORY • MY AMERICAN TOUR • GM Maxime Vachier-Lagrave [MVL] on his victory at the 2021 Sinquefield Cup and his tie for second place at the 9XL Showdown.
That text was repeated in the introduction to the ten page article, making it a double blunder. To make matters worse, '9XL' sounds like a fast food menu item -- 'I'll have one no.9, Xtra Large, hold the mayo.'
I suppose I should stop waving my arms around and just be happy that chess960, aka FRC, aka 9LX, etc. etc., featured in two full pages of the MVL article. Earlier this year I covered the '9XL Showdown' event in two posts:-
There was one encouraging development in the MVL article. In that second post, 'Live', I noted,
Just as they did for past events, the 9LX organizers used a non-standard numbering system to identify the start positions (SPs).
This was fixed in the MVL article, where he discussed three of his chess960 games, vs. GMs Mamedyarov, Caruana, and Nakamura. MVL wrote,
At the Showdown, the players were given 15 minutes before the rounds to analyze the new starting positions with each other. I often looked at variations with Levon Aronian and Fabiano Caruana. To be completely honest, this kind of preparation is often just blindly groping around, but sometimes you find one or two ideas that work.
The Frenchman, currently rated world no.12, once posted a piece on his blog My Chess960 Debut (mvlchess.com), which was at the 2018 Champions Showdown at St.Louis. I covered the event on this blog in Champions Showdown, St.Louis (September 2018). In his blog post, MVL observed,
The idea of "confining" players, without computer access, one hour before the games, was very interesting. In this friendly atmosphere, allowing the players to get acquainted with the position and analyse together, generally by pairs, was worthwhile. [...] Analysis of a brand new position was clearly adding some spice to our daily routine. First of all, by depriving us of the morning prep burden... But also because we rediscovered the pure analytic work, as it was done by the Ancients, before the computer era!
It's been alomost two years since I last mentioned a CL article on this blog; see An Alternative to a 'Boring, Mind-Draining Process' (January 2020). Let's hope the next opportunity won't take another two years.