This post should have been a continuation of last month's
The Promise of Chess960 (in 2006)
, which looked at Gene Milener's book 'Play Stronger Chess by Examining Chess960', written in 2006. In the meantime I received a copy of Milener's new book 'Kinetic Patterns in Reactive Chess'. Although the book isn't about chess960, it does include a 16 page appendix, shown below.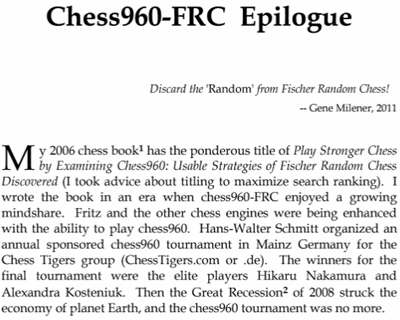 After a two page summary of the earlier chess960 book, the appendix / epilogue discusses the following topics:-
• Chess960 Piece per Square Probabilities
• Numeric Names for Start Setups
• Changed My Mind: 'Random' Is Bad
• Mark Weeks and GeneM Disagree
• Status as Seen by Mark
• End Notes
Since there is no way I can ignore the mention of my name in a printed book, I'll come back to the subject in another post. In the meantime, the section 'Status as Seen by Mark' is essentially a copy of an article I wrote more than three years ago and which I mentioned in Whispering a Fond Adieu! (June 2015), my last post before taking an 18 month leave of absence from chess960 blogging.
There will be no more leaves of absence anytime soon. I have at least two posts to write: a continuation of 'Promise of Chess960' and a reaction to Milener's epilogue. • P.S. I'll tackle the main subject of 'Kinetic Patterns' on my main blog, Chess for All Ages.