In the previous post,
10th Anniversary!
(August 2018), I mentioned 'the Champions Showdown in St. Louis next month':-
Twenty games times five matches means 100 games of chess960 played by some of the best chess players in the world, including a few veterans of the Mainz chess960 tournaments. What will we learn from those games?
The event was played 11-14 September, and is documented on the official site, Champions Showdown: Chess 960 (uschesschamps.com). From the 'Regulations':-
In the Champions Showdown, each round will begin with the same starting position on all boards, and new positions will be drawn after every fourth game according to the Schedule of Events. If the standard starting position is randomly selected, it shall be discarded and a new position shall be drawn.

Positions will be drawn in the playing hall. Once drawn, players will have time to prepare, but must remain in the playing hall. Players may have a second to assist, but may not use electronic devices such as computers or phones.
From the 'Standings' on the same site:-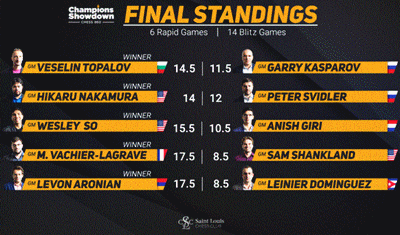 Matches:
Topalov - Kasparov, Nakamura - Svidler, Wesley So - Giri,
Vachier-Lagrave - Shankland, Aronian - Dominguez
Although all of the major chess news sites had significant reports, Chess24.com produced the most comprehensive reporting. Their reports on the four rounds were by Colin McGourty:-
The first report in that list explained,
The first three days, the participants will play two rapid games followed by two blitz games -- all four games will be played with the same starting position. On Friday, they will play the remaining eight blitz games -- the starting positions will be drawn twice, once at the beginning and once before the final four games.
I noticed one anomaly that I don't understand. The official site's 'Results' page noted the start positions and their numbers for each round, but the numbers don't correspond to the system that I'm familiar with. For example, it gives the first day using 'Position 598: NQBBRKRN'. I prepared the following table for this post, where the first column is the round number and the second column is the numeric start position:-
1: SP309 NQBBRKRN
2: SP444 RBNNQKBR
3: SP802 BRKQNBRN
4: SP833 BRKBNRQN
5: SP641 BRNBKRQN
That mystery aside, I loaded the PGN file for all 100 games to a ZIP file in a directory on my own site: m-w.com/c960/blog/. In the past, I've loaded the PGN file without compression, but I discovered that my domain host now restricts uploads to a 'List of Supported File Types' that doesn't include PGN.
I'd like to come back to the games in a future post. There are also many comments from fans (and non-fans) scattered across different resources that could be surveyed.