For nearly a decade, the
Saint Louis Chess Club
has been a leading supporter of chess960. Last year we had the
2019 Champions Showdown, St. Louis
(September 2019), the fifth St.Louis chess960 event covered on this blog. This year we had the
2020 Champions Showdown: Chess 9LX
(uschesschamps.com; August 2020). That press release started,
The top international chess superstars are set to battle online from September 11-13 in Championships Showdown: Chess 9LX hosted by the Saint Louis Chess Club. Champions Showdown: Chess 9LX will feature the world's top grandmasters including legendary World Champion Garry Kasparov, the reigning World Champion Magnus Carlsen, and World Number 2 Fabiano Caruana. The matches will be played in Chess 960 style, also known as Fischer Random, with a $150,000 prize fund.
Because of the difficult travel conditions during the worldvide coronavirus pandemic, the event was held online using Lichess: Carlsen, Kasparov, Nakamura, Firouzja and more battle it out on Lichess (lichess.org/blog; September 2020). That Lichess blog post started,
A pair of amazing tournaments will be taking place in the next week on Lichess with a combined $400,000 prize fund. Featuring World Champion Magnus Carlsen, former World Champion Garry Kasparov, and many other Super GMs: Vachier-Lagrave, Caruana, Nakamura, Aronian, Svidler, Firouzja, and more. We will get to see Carlsen and Kasparov play their first competitive game since Magnus was 13 years old.
The anonymous post went on to describe the first 'amazing' tournament as 'what is *uninspiringly* called "Chess 960" on Lichess', and the second as 'the *archaic* form of chess that includes the same starting position in every game'. The asterisks ('*') are mine. Does someone have an axe to grind?
For more objective reporting, I could have turned to any of the major chess news services, which reported on all three days of the chess960 event. I'll go with Chess.com, because it has also supported chess960 since the early days and because the reports were by Peter Doggers, one of the top chess journalists in the world.
That last report included a final crosstable, which is reproduced here.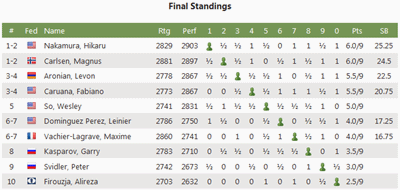 I'll come back to this event in another post to look at games and videos. For the second year, the format was called Chess 9LX and tagged with a 'TM' symbol, as if it didn't have enough names. Another top chess journalist, Leonard Barden of The Guardian, has some trouble keeping the many names straight:-
I added '9LX' to the list of names on the header of this blog, but will hold off on '9XL'. I might have to list it anyway if the misnomer ever catches on with a wider audience. Maybe I should 'TM' it.