A few years ago I wrote a post
Activating the Corner Queen
(September 2013; SP180 NBBRNKRQ), where I concluded,
Black was always in command and eventually won. The early activation of Black's Queen was the deciding factor.
I was reminded of that post in a pair of games that I recently played at the same time and that both ended disastrously for my opponents. I was White in both games.
The position at the top is from a game that started with SP201 QNRBBKNR. Black played the inconsistent sequence 9...Qa7, followed immediately by 10...b6. This left the Black Queen out of play just as much as in the start position. I played 5.b4 and 6.Qb2, followed later by 17.Qd2, where the Queen joined an attack building against the Black King. The diagrammed position, where Black resigned, shows all White pieces participating in the attack.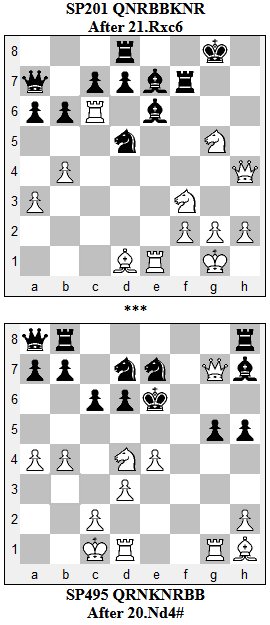 The position at the bottom is from a game that started with SP495 QRNKNRBB. Black's Queen never moved and Black made no effort to develop it by moving either of the Pawns that blocked it. I played 1.b4, activating the Queen on the first move. Although the Queen didn't jump into the game until 19.Qg7, setting up a killer mating net, it participated in the tactics throughout.
In the traditional start position (SP518 RNBQKBNR), the Queen is well placed to enter the game as circumstances dictate -- via either of two diagonals, up the file (often to the second rank), or occasionally sliding along the back rank. When the Queen starts in the corner, it is badly placed and requires special attention.
In both diagrammed games, White was virtually playing with an extra Queen, a significant advantage for any player. It can't have been pleasant for either of the opponents.