If, like me, you thought that last month's post,
FWFRCC Wrapup
, was the last on that subject, then you would be wrong. The January 2020 edition of
Chess Life
(CL) had a four page article by GM Robert Hess titled, 'So Showcase', subtitled, 'GM Wesley So goes on a winning spree at the first FIDE World Fischer Random Championship'. It started,
Between the U.S. Championship, five Grand Chess Tour events, the FIDE Grand Prix cycle, the World Cup, and the FIDE Chess.com Grand Swiss, GM Wesley So hardly had any downtime in 2019. Breaks from tournaments are necessary: time is spent mending holes in the repertoire and diving deep into the weeds of openings to unearth a new variation.

Preparation often requires rote memorization of long series of moves, countless Berlin lines stored for future use. Many do not find this an enjoyable endeavor. The FIDE World Fischer Random Championship, then, was a nice reprieve from the typical drudgery required to be competitive at the game's highest level.
Near the end of the article, GM So confirmed that sentiment.
[Wesley] So certainly wants to see the variant grow. To him it was "wonderful not having to memorize lines and go over and over the same material searching for a novelty somewhere. I have a good memory, but it is such a boring, mind-draining process." In Norway, not having anything to memorize, his daily routine consisted of solving chess puzzles, studying chess books, working on tactics over the board, eating well, and sleeping regular hours.
Between those paragraphs was a high-level summary of GM So's path to the title, including his crushing win over GM Magnus Carlsen in the final match. The following photo (photographer unknown) shows the playing arena in Norway's 'Henie Onstad Art Center'.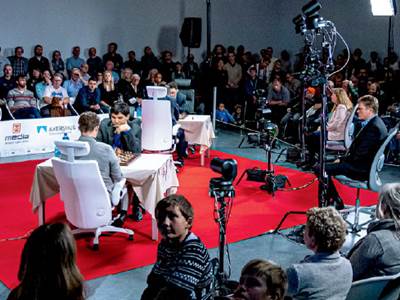 Caption: 'So emerged as the surprise leader after his day one matchup with GM Magnus Carlsen.'
Along with that article, GM Hess analyzed two games from the FWFRCC competition. The first was a Nakamura - Caruana game in the December 2019 issue of CL. The second was So - Carlsen in the January 2020 CL, game two of the final match.
For a chess magazine which has long emphasized American juniors and has lately been emphasizing American women, the chess960 articles were a welcome change. I wonder if there's any demand for more of the same.