The second 'FIDE World Fischer Random Chess Championship' -- seen last week in
2022 FWFRCC Structure
(September 2022) -- wasn't the only world class chess960 event taking place this month. The last event of the '2022 Champions Showdown' in St.Louis was also a chess960 tournament. Shown here is the final crosstable.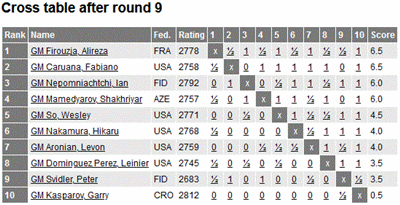 2022 Champions Showdown: Chess 9LX
(uschesschamps.com; see 'Pairings & Results')
That link is to the home page for the event. It explains,
What is Chess 9LX? • Chess 9LX is a tournament hosted by the Saint Louis Chess Club. It is played in the Chess 960 or Fischer Random format. Created by Bobby Fischer in the late 1990s, Chess 960 shuffles the pieces on the home rank, with 960 representing the number of possible starting positions. Players will not know the order of the home rank until 15 minutes before each round.
So who won, Alireza Firouzja or Fabiano Caruana? A press release informed, Fabiano Caruana Wins the 2022 Champions Showdown: Chess 9LX(TM) Tournament (businesswire.com):-
Saint Louis-based Grandmaster Fabiano Caruana was crowned the winner of the 2022 Champions Showdown: Chess 9LX after defeating Alireza Firouzja in Armageddon during their rapid playoff match and taking home the $31,250 first prize.
The following video starts at the point of the rapid playoff match. It first explains the playoff rules and the disposition of the prize fund.

2022 Champions Showdown | Chess 9LX: Day 3 (5:05:39; starts with playoff at 3:43:00) • 'Streamed live on Sep 16, 2022'
For the full Youtube videos on channel 'Saint Louis Chess Club' (SLCC) of all three playing days -- '2022 Champions Showdown | Chess 9LX', streamed live -- see:-
2022-09-14: Day 1 (R1 - 0:00:00; R2 - 1:19:30; R3 - 2:41:30)
2022-09-15: Day 2 (R4 - 0:00:00; R5 - 1:27:15; R6 - 2:49:00)
2022-09-16: Day 3 (R7 - 0:00:00; R8 - 1:33:00; R9 - 2:41:00; TB - 3:43:00)
For this blog's final report on last year's event, see Chess940 in 'Chess Life' (December 2021; 'Earlier this year I covered the '9XL Showdown' event in two posts'). To close this current post, I'll add my usual reminder that the SLCC uses non-standard position numbering propagated by Chessgames.com. To convert to the standard position numbering used everywhere else, see Chess960 Start Position Converter for Chessgames.com (m-w.com). Somewhat curiously, the SLCC got it right for the position used in the first two tiebreak games, SP878 is the same start position (QRKRNBBN) in both numbering systems.