Last month, in
2022 FWFRCC Kickoff
(August 2022), we had initial news about the second 'FIDE World Fischer Random Chess Championship'. The following chart shows the structure of the event as seen by two of its sponsoring organizations.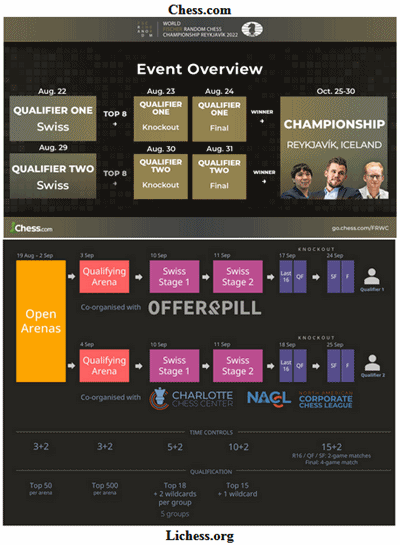 Top: Fischer Random World Championship 2022 - Info (chess.com) • Bottom: FIDE World Fischer Random Championship – Update (lichess.org)
Both Chess.com and Lichess will qualify two players into the championship stage. From the Chess.com page:-
Championship [25-31 October 2022]:-
- Four qualified players join the four invited players.
- The players compete in a group stage, followed by the semifinals and finals
- Group Stage [...] The top-two players from each group advance to the semifinals
- Semifinals and finals [...] Players compete in four-game matches

Location: Qualifiers are played online on Chess.com [and Lichess], while the final is an over-the-board event in Reykjavik, Iceland.
The two Chess.com qualifiers have already finished. I'll save the details for another post.