The top chess960 tournament of the year is undoubtedly the annual event hosted by the St. Louis chess club. The results for this year were announced on the club's blog in
Grandmaster Sam Sevian Delivers Brilliant Performance to Win 2023 Champions Showdown: Chess 9LX
(saintlouischessclub.org). The press release started,
SAINT LOUIS, September 12, 2023 - GM Sam Sevian won the 2023 Champions Showdown: Chess 9LX after a brilliant final day, where he defeated a competitive field including legendary former World Champion Garry Kasparov and World No. 2 Fabiano Caruana to take home the $37,500 first place prize.
The crosstable shows that GM Sevian won the event without a loss, a full point ahead of the next group of players.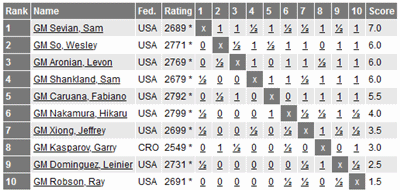 2023 Champions Showdown Chess 9LX
(uschesschamps.com)
I'll have more to say about the event in the next post. For the report on last year's event, see 2022 Champions Showdown, St. Louis (September 2022).