Remember chess 9LX™? That's the Saint Louis Chess Club's name for chess960 so they can slap 'TM' on everything, as in Rex™ Sinquefield™, NIH™. Joking aside, the club has become one of the most ardent supporters of Fischer's greatest invention.
Last year we saw the second edition of the club's signature C960 / FRC / 9LX event hosted at an online venue because of the covid pandemic. I covered it in two posts: 2020 Champions Showdown, Lichess (September 2020) and 2020 Champions Showdown Live (ditto). This year the event returned to 9LX's spiritual home in St. Louis.
The official home page for the event appears to be 2021 Champions Showdown: Chess 9LX (uschesschamps.com). That's where we find the crosstable shown below.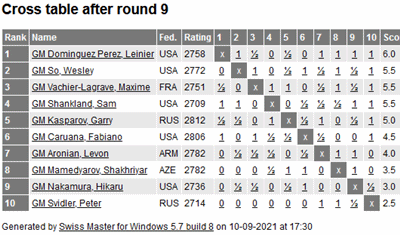 A striking aspect of that chart is that the two players who finished last, GMs Nakamura and Svidler, were both World Champions at 960's first spiritual home in Mainz. See, for example, Chess960 World Championships (January 2009) on my main blog, and No Place for Chess960 (February 2011) on this blog. I'll continue the report on the 2021 event in a follow-up 'Live' post.